Timer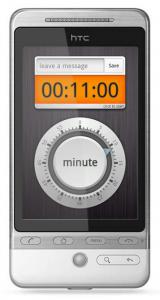 Description:
Timer is a simple countdown timer(s) for your daily time management: cooking, napping, parking etc. Compatible with Android 1.5+ Features: *
Multiple timers running concurrently;
*
A knob to quickly set timer;
*
Save timers;
*
Pause/continue, snooze;
*
No need to keep the app open; will wake up from sleep;
*
Home screen shortcuts to saved timers.
---
Sweeter Home
Sweeter Home
Sweeter Home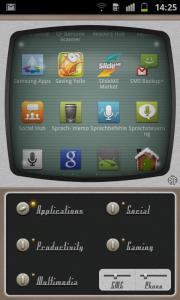 Description:
Sweeter Home is a home replacement app for Android. It replaces the 'standard' or 'stock' home and can be set as your default home. Sweeter Home allows for user editing of all the UI functions of the home, which means that any user can create the home they want using rich tools with highly customizable configurations including function and look. Editing is localized to your handset so you can build themes on the bus, on the couch, or next to the pool! It features syncing which enables a seamless experience as app categories auto-populate into trays. It also provides easy sharing of themes using a server hosted list where you can download themes by others, or upload your own themes for the world to use. Already present is a vibrant user community sharing hundreds of themes with thousands of downloads. Due to the ease of theme sharing Sweeter Home is also perfect for those people who don't want to edit their own themes, but simply want to use the new and exciting themes created by others.
Seeder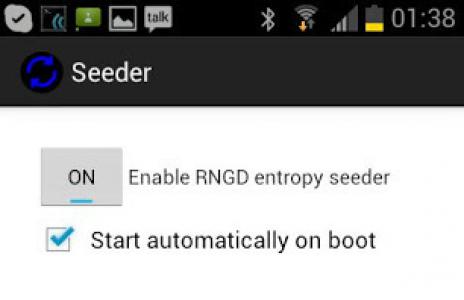 Description:
This version introduces performance tuning, power management control, and an optional MMC I/O queue extension/timing change. For those of you who have seen reboots / black screens that seem to be caused by Seeder, I suspect it may be due to the power management implemented in previous versions. Disabling power management (by unchecking "Suspend RNG service while screen off") may help. In my testing, battery impact was negligible (less than 2\. per 24h). The performance profiles are Light, Moderate, and Aggressive, and they control how frequently rngd wakes. The default configuration (Light) is unchanged from previous versions. Moderate and Aggressive may impact battery life (slightly), but may also help on devices where the entropy pool is drained quickly and often.Last but not least, the "Extend I/O queue" option increases the nr_requests on MMC devices to 1024\. and increases the dirty page expiry time, allowing more outstanding writes to accumulate. This may allow the I/O scheduler to make better decisions and combine more writes; some users have reported an improvement under heavy I/O.